Brentford Ephemera - Bath Bros. box
Paul Morrison

wrote in January 2019:
I found this old Bath Bros. Brentford box under my Mum's stairs. Mum used to live in Strand on the Green, so a local girl, now 91. Do you know anything about Bath Bros.? It says on the end of the box 'British Produce', so a greengrocer maybe?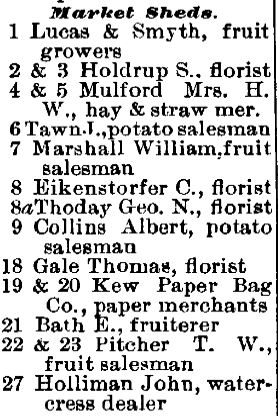 This extract from a 1914 trade directory shows an E. Bath fruiterer had a stall in the Brentford Market Sheds, at no. 21 – this sounds promising.
There are some interesting surnames here too, and a very specific occupation: watercress dealer.
The 1939 Register includes a Bernard Bath at 1 Silver Crescent, Chiswick, off the north side of Chiswick High Road - quite near the Brentford Market building.
A firmer sighting from the Kensington Post 26 Aug 1939:
British Legion Children's Outing
Eighty children of the members of the Chiswick Branch of the British Legion, waved goodbye to the Mayoress of Brentford and Chiswick (Mrs G Jenkin) and their parents on Tuesday Morning, when they set off from Turnham Green for Littlehampton, where they spent a happy day by the sea.
The Mayoress presented each child with sixpence on behalf of the Chiswick Branch of the British Legion. Fruit was also handed round. Mr Dave Hayward transported the fruit from the market and those who presented it were: Messrs R E Jenkinson; Bath Bros; C Wingrove; Halifords and Co; Russell Bath; and Huntley Bros.
The following year Marylebone Mercury 7 Dec 1940 reported:
Brentford and Chiswick War Appeals Fund
Donations have been received from:-
.. Brentford Market: Henry Newman £1 1s 0d ... Bath Bros. £1 1s 0d ... G. Bath £1 1s 0d ...
No firm sightings after this, the war may be the reason.
This leaves a rather wide window between 1914 and 1940 to date the box. Does anyone remember Bath Bros.? If so do get in touch.
Links
Paul Morrison also sent details of his grandfather, Harry Claude Vivian Barwick, probably the owner of the Bath Bros box. He was awarded the King's Police Medal for an act of heroism - read more.

Page published November 2019