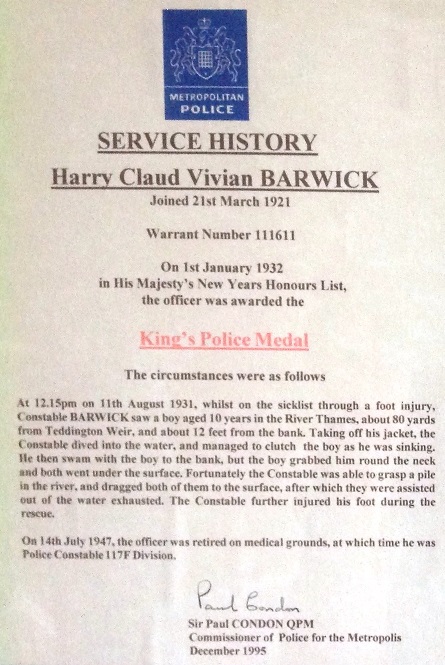 BOY SAVED FROM RIVER

Policeman on Sick Leave
Exhausted After Rescue
ACCIDENT DUE TO DISPUTE.
A ten-year-old Teddington schoolboy, Ernest Charles Timms, of 158 Kingston Lane, was heroically rescued from drowning in the Thames by a Brentford policeman, who was on temporary leave owing to sickness, near Teddington Lock, on Tuesday.

Just after midday on Tuesday, P.C. Barwick was fishing from the Lock island when he heard a boy scream, and saw a hand disappearing beneath the surface of the deep water of the "cut" on the lock side of the island. He dived fully clothed into the water and managed to clutch Timms as he was sinking for the third time. The policeman brought him to the side, but his recent illness and an injury which he sustained to his leg, exhausted him, and the boy was dragged ashore by a Teddington woman, who had been sitting on the bank with her children.

Sinking for the Third Time.

A graphic story was told to a SURREY COMET representative when he called on the lad's mother, Mrs Evelyn Timms. Mrs Timms said that her son, who was on his summer holidays, had gone to the river with a small chum to fish. Apparently, she said, a child-like dispute had arisen between her son and his friend and some other small boys over a fishing rod. Ernie was pulling the rod away from another boy when his foot slipped, and he fell backwards into the water., which is very deep at this spot. His little friend screamed, and this attracted the attention of P.C. Barwick, who was fishing further up the riiver. Her son, who has a weak heart, was coming up for the second time when P.C. Barwick shouted to him to keep his mouth tightly closed, and then he dived to the rescue. Mrs Timms related vividly that her son had the presence of mind to do as he was bid, and was just sinking again when he saw a dark shadow above him, and then felt the policeman's arm about him. When he got to the bank, he was joined by a girl guide, who, slapping the water out of him, ran home with him to his mother.

"Ernie has made remarkably good progress and seems none the worse for his adventure." added Mrs Timms, and then added that after she had put him to bed, she crept into his room. "The tears came into my eyes," she said "when I saw him kneeling on the bed with this hands together reverently."

"Brave and Daring"

Mrs Timms then produced a touching letter which her son, who attends Hampton Wick School, had composed himself in appreciation of his rescuer. The letter written in boyish hand in pencil read: "Dear Sir: When I fell into the Thames at Teddington the other day I thank God that I had someone near who was brave and daring to rescue me. As you dived into the water I knew that I was going to get rescued. I write this letter to tell you how very thankful I feel towards you, to think that my life was saved by you. When I heard that you had hurt your leg, I was grieved very much and hope that you will soon come back to your old self. I am getting on fine, and I hope that you will follow my example. Now I end by wishing you good luck and God bless you. I remain, yours gratefully E.C. Timms."

Ernest is one of a family of three boys and a girl. His father, Mr John Bartram Timms, who is a clerk on the Southern Railway, has also written a letter of thanks to P.C. Barwick.

P.C. Barwick made his way to Teddington Police Station in a state of collapse, where his clothes dries, and he was given hot drinks.